Dental Bridges Near You
Missing teeth can eventually lead to serious dental problems if they aren't addressed. This can include the development of an irregular bite pattern, decay, and bone deterioration.
If you're dealing with gaps in your smile and are looking for a reliable solution, talk to your dentist about receiving dental bridges near you. This prosthetic is designed to fill in noticeable spaces between your teeth and improve your overall oral hygiene.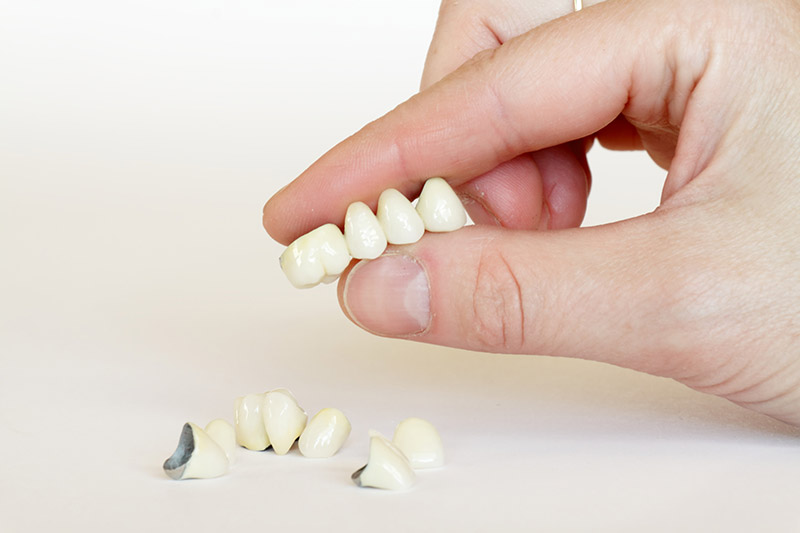 A Closer Look at Dental Bridges
Your dentist may recommend acquiring a dental bridge to address several oral health issues including trauma, recent tooth extraction, gum disease, and aging. This particular structure is very effective at filling in gaps in your smile left behind by missing teeth. However, before you can go ahead and have any work done officially, you'll need to arrange a time to come in and speak with your dentist. They'll examine your teeth and gums and let you know if this is indeed the best route forward.
A dental bridge is a customized structure that's made up of an artificial tooth (also known as a pontic) and two abutments (usually dental crowns). The pontic is inserted into the socket while the crowns fasten onto the teeth on either side of the space. Dental bridges are designed to mimic the appearance of your original teeth. Depending on your case, your bridge may be partial or complete, removable or fixed.
Types of Bridges
Dental bridges come in 4 forms, and they are described below:
Traditional Bridges
This type of bridge is exactly what is described above: a pontic and two abutment crowns. Because they can be installed anywhere in your mouth, they are the most popular dental bridge amongst patients.
Cantilever Bridges
Only one abutment crown is utilized in cantilever bridges. As a result, dentists often recommend this specific type of prosthetic to patients who are missing teeth at the back of their mouths.
Maryland Bridges
Maryland bridges are quite similar to traditional bridges. However, instead of the prosthetic being made of just one material, it's fabricated from a hybrid of porcelain and metal.
Implant-Supported Bridges
As is made very obvious by its name, dental implants are used to anchor your prosthetic in your mouth instead of using a pair of dental crowns. Typically, one implant is used to replace one tooth, but adjustments can be made depending on your situation. Since dental implants are a permanent solution, this is the most durable and stable form of dental bridge.
To learn more about dental bridges in Carstairs, speak with your dentist today. They conduct a comprehensive dental examination, assessing the health of your teeth and gums physically and by taking x-rays. This allows them to suggest the most prudent course of action moving forward. And if you have any queries or concerns, they can address those too.
Looking to receive dental bridges near you? At Mountain View Smiles dental clinic, our team of dentists and hygienists are here to walk alongside you on your oral health journey. We can't wait to work with you soon!